No matter your chip seal cost in Dallas, this process is an excellent investment in your property. Chip sealing keeps asphalt strong and durable, adding a layer of protection between the pavement and damaging elements including harsh sunlight, strong rain, and heavy vehicle traffic. A chip sealant also improves the appearance of asphalt!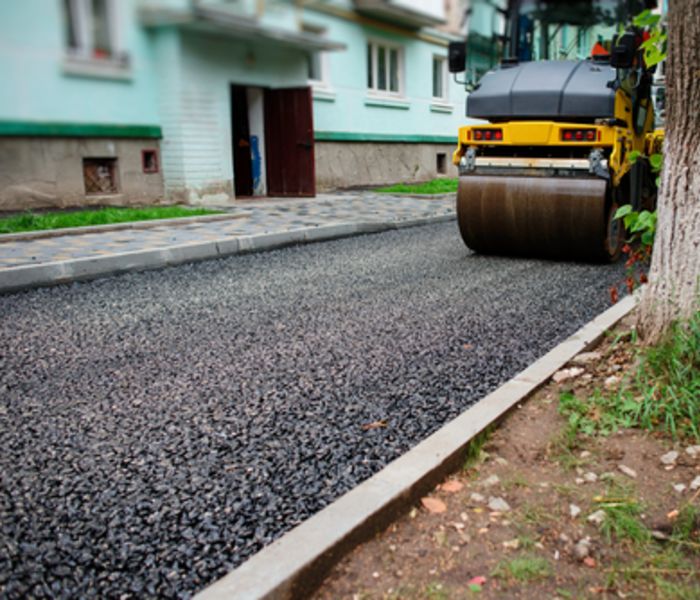 While a Dallas asphalt installation contractor can offer a precise chip and seal quote for your property, note a few simple tips for calculating this cost yourself. This can give you an idea of what to expect even before you pick up the phone and make an appointment for quotes on your property!
Chip Seal Costs in Dallas
First note that a chip seal will typically cost between $3 to $5 per square foot. Resurfacing gravel or asphalt driveways will run on the low end of that scale, sometimes even no more than $1 per square foot, while new tar and chip installations will run at the high end, usually about $5 per square foot.
Your costs will also vary depending on if you choose a single chip or double chip seal. As the name implies, a single chip seal includes a layer of chips or aggregates over asphalt emulsion, or liquid asphalt. A double chip seal includes two layers of chips; a double chip is best for highly trafficked areas or for supporting heavy vehicles such as delivery trucks.
A high performance chip will also run at the high end of the cost scale. A high performance aggregate includes a cube-shaped gravel that offers maximum traction. High performance chips, also called cape seals, are best for areas where you need added safety such as public roadways or a sloped driveway.
Added Costs for a Chip and Seal
In addition to the chip and seal installation costs, your property might also need certain prep work, to hold the chips in place and ensure proper drainage. Excavation is often needed, to remove plants, small trees, weeds, and other growth that can get in the way of the chip and seal; this might add $1 to $5 per square foot to your costs depending on the work involved.
Chip and seal pavement also needs a level surface for the aggregate to stay in place and ensure a proper sealing. Leveling a driveway or roadway, including filling in potholes and other such damage, might add $500 to $1800 to your overall costs.
Specialty Aggregate and Other Features
One advantage to chip and seal driveway installation in Dallas is that aggregates come in a wide variety of colors and styles. Upgrading from everyday gravel to something polished or colorful can also add to your costs; however, this can also mean a stunning driveway outside your home and a unique look you love, making it worth that investment!
Decorative features can also enhance your property's appearance but add to your overall costs. For example, you might prefer concrete or stone dividers after so many feet of aggregate, to break up the look of a long driveway and add visual interest. Not only do specialty features such as this add to your labor costs, but you might also pay more per square foot for specialty materials such as brick or stone.
Administrative Costs for Chip and Seal Driveways
Installing a chip and seal driveway or sealcoating over existing asphalt often requires a permit. Your installation contractor might handle the paperwork for the permit but will usually pass the cost onto you, the property owner.
If property boundaries are unclear, an asphalt installation contractor might also schedule a land survey. This tells him or her the exact boundaries for a driveway, roadway, or other area. A land survey also alerts a pavement contractor to the land's topography, so he or she can note elevated areas, slight curves not obvious to the naked eye, and other important factors. The cost of this survey might also be added to your overall chip and seal costs.
If your property is difficult to access, this can also mean added costs for special equipment or for having to manually bring materials to your property. This will also add to your overall chip and seal costs.
Dallas Asphalt Paving is happy to explain your expected chip seal costs in Dallas and hopefully you found this information useful! If you're in the area and are interested in a chip sealant or tar and chip installation, or new asphalt paving for your property, call our experienced Dallas asphalt installation contractors. We offer over 20 years of industry experience and ensure quality work you can trust. For more information, give us a call today!